Sedation Dentistry
A relaxed and anxiety-free experience.
A relaxed and anxiety-free experience.
With many types of sedation, patients feel no pain during or after treatment and have virtually no memory of the visit.
Sedation dentistry is used to provide a relaxed and anxiety-free experience for individuals too afraid to go to the dentist to receive the dental care they need. Sedation also allows extensive treatment to be completed in a single appointment.
According to the Dental Organization for Conscious Sedation, 30 percent of the population avoids the dentist due to fear. With many types of sedation, patients feel no pain during or after treatment and have virtually no memory of the visit, so the patient can be totally relaxed and comfortable while having all their dental needs met. Dr Ferrera is certified to perform conscious sedation and offers his patients this option.
The process is fairly simple, Sedative drugs (tranquillizers, depressants, anti-anxiety medications, nitrous oxide, etc.) can be administered in a variety of ways Dr offers two methods of sedation: inhalation (nitrous oxide/oxygen) sedation and oral sedation.
Nitrous oxide/oxygen sedation falls within the mildest category of sedation. Patients ranging from the very young to the elderly have been safely treated with nitrous oxide/oxygen sedation. Patients may feel tingling or a sense of well-being. However, they remain alert. During minimal sedation, patients can still hear, see, and respond to the action that is taking place around them. But people are much less likely to experience anxiety because of these environmental stimuli. Once inhalation is discontinued the effects end also, often within seconds.
Oral sedation in the dental setting is usually mild or moderate sedation, with patients remaining alert and responsive, and able to answer questions. When patients are comfortable, but still awake, the dentist and dental team are able to proceed more efficiently. In addition to creating a feeling of deep relaxation, the oral sedative may produce other effects. Patients may feel time has passed very quickly or otherwise retain little memory of their time in the dental office. The analgesic properties decrease any sensation of pain or discomfort.
Sedation Dentistry protocols have been safely used for over 30 years with millions of dental procedures. Before beginning any treatment, we will review your medical history and explain how sedation dentistry can work for you, and which method is appropriate. We want you to feel confident about going forward towards a healthy, new smile. Patients are closely monitored throughout the procedure to ensure comfort and safety.
A Pain-Free Dental Experience
Many patients feel NO DISCOMFORT whatsoever during and after treatment, and have little or no memory of the visit.
Another major benefit is that people often feel like their dental procedure lasts only a few minutes, when in fact it might have taken hours. Therefore, extensive dental procedures such as whitening stained or yellowed teeth, replacing crowns or dentures, fixing chipped or damaged teeth, and rebuilding procedures that normally require multiple visits can be performed in fewer visits.
Oral sedation candidates are adult patients who have:
Extreme fear of seeing the dentist
Past traumatic dental experiences
Need dental care completed in a limited time frame
Frequently Asked Questions
Q. Will I feel any pain?
Sedation is different from anesthetic injections; it helps relax patients by slowing the action of the central nervous system. People remain aware of their surroundings, but are less responsive to external stimuli. So although sedation reduces the sense of pain, most dental treatments still require a local anesthetic injected in the mouth, even when sedation dentistry techniques are performed. These anesthetic injections are given after the patient is sedated.
Q. Will I be totally relaxed?
Sedation creates such a comfortable experience that most patients do not remember the visit; it is as if they slept through the treatment.
Q. Will I remember anything?
At the end of the treatment, most patients have little or no memory of the dental visit.
Q. Will I be groggy after my treatment is over?
Regardless of the type of sedation dentistry you receive, it is important to have a responsible caregiver accompany you to the procedure (and drive you there if you must take oral medication before arriving for your appointment). The caregiver should drive you home after the procedure is complete and stay with you for an additional two to four hours at home.
Q. Will my insurance cover treatment?
We will assist you in reviewing your insurance eligibility and benefits prior to treatment. If financial assistance is needed, we'll help in making arrangements to ensure you get the dental care you need.
Q. Is Sedation Dentistry safe for me?
We will review your medical history before beginning any treatment. And while you're under sedation, we monitor you very closely.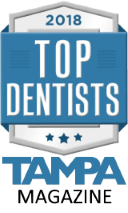 Don't Wait Any Longer.
Schedule Your Appointment Today!
Ferrera Dental Care & Sedation Dentistry
15047 Bruce B Downs Blvd, New Tampa, FL 33647
Office Hours
Monday - Thursday: 7:00 am - 5:00 pm
Friday, Saturday, Sunday: Closed
Dentist in New Tampa, Florida