Our staff include associate dentists, dental hygienists, dental assistants, and support personnel, all of whom are highly skilled and caring professionals. Each has had superior formal education and in office training here. All staff stay current with the latest in prevention and treatment through continuing education.
For added safety, we closely follows the infection control procedures recommended by the American Dental Association and the Centers for Disease Control. Our staff have been carefully trained in the appropriate use of sterile techniques and cleaning and disinfection of equipment that is not disposable. For your protection, we use as many disposable items as possible.
All of our materials suppliers have been carefully evaluated and selected. This includes those who furnish us with materials we use in the office as well as the dental lab that creates your custom replacement teeth. We are so sure of our work that we do guarantee it!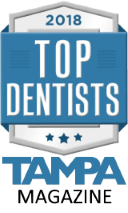 Don't Wait Any Longer.
Schedule Your Appointment Today!
15047 Bruce B Downs Blvd, Tampa, FL 33647