Patient Testimonials
Here's what your New Tampa neighbors have to say about us.
"My sincere thanks go out to Dr. Ferrera and his entire staff for the difference they've made in my life." -Terry M. New Tampa, Florida
"I am from out of state (here for school) and have never gone to a dentist outside of my hometown – Dr. Ferrera was excellent. Accommodating, thorough, and so kind. They were able to fit me in for a chipped tooth that was really hurting me. Their staff is the best, especially Morgan! Thanks again! "
– Jessica T.
"Wouldn't change a thing. I recently moved near the downtown area of New Tampa and gladly drive 30+ minutes to keep Dr. Ferrera as my dentist. Very personable, experienced, straightforward and reasonable."
– Ryan E.
"Dr. Ferrera is the Best Dentist in the Bay Area been my Dentist for over 10 years his Staff is Great too. "
– Michael B.
"A dentist you can trust that does exceptional work."
– Joan M.
"Dr. Ferrera and his staff are very knowledgeable, professional and friendly. Doctor takes the time to explain and educate and make recommendations yet not pushing for financial gain. Due to change in my dental plan I had to choose another dentist for about 1 year and SORRY I DID. They could not measure up to his nor his staff standard of dental care. Now I am back with him even if I have to pay out of my pocket I will not change."
– Rosalind F.
"If you are looking for a highly skilled, competent dentist with high standards and good outcomes, this is the place. The support staff is excellent, responsive and sensitive to patient needs. I have sensitive teeth and for the first time in my life, I enjoy going to the dentist. Seriously, best dental experience ever"
– Christine A.
"Please accept my sincerest appreciation for your superb level of service and treatment. Your assistants and office staff went to great lengths to ensure my comfort, extraordinary! Dr Ferrera, you combined the latest technology with your artistic precision to give me a confident smile. You're an absolute credit to your profession."
– David W.
"Dr Ferrera has been my Dentist for over 20 years and I promise you that you will not find a Dentist with such a soft touch when it comes to needles and dental instruments. The entire staff is well trained, professional, and courteous and treats you as an individual."
– Jerry A.
"I have had my dental care for at least the past fifteen years with Ferrera Dental Associates in New Tampa, FL. I have been extremely satisfied over the years with the exceptional care I have received. Dr. Ferrera has always managed to assist me when I needed support during dental emergencies. My sincere thanks go out to Dr. Ferrera and his entire staff for the difference they've made in my life."
– Terry M.
"Dr. Ferrera and Staff are like family. They greet you with warm welcome, speak to you like close friends, and care about you and your health. My experiences have been awesome that why I travel from Riverview for my dental care. Thank you."
– Annie P.
"My family and I have been patients of Dr. Ferrera for more than 10 years. The professional dentistry skills of Dr. Ferrera and his associates make going to the dentist a wonderful experience. Especially when it comes to getting crowns. His specialized equipment makes it possible to get a crown in one visit versus two."
– Deadra S.
"After not seeing a dentist for many many years, I had a lot of work to be done to my teeth. Once I found Dr. Ferrera, he and his staff helped me to figure out a dental plan that worked with my budget and my schedule. The staff is always very friendly and knowledgeable. I actually look forward to my next visit!"
– Brooke R-L.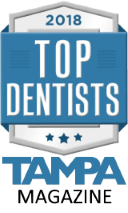 Don't Wait Any Longer.
Schedule Your Appointment Today!
Ferrera Dental Care & Sedation Dentistry
15047 Bruce B Downs Blvd, New Tampa, FL 33647
Office Hours
Monday - Thursday: 7:00 am - 5:00 pm
Friday, Saturday, Sunday: Closed
Dentist in New Tampa, Florida