Gingivitis
Learn what Gingivitis is and how we treat it.
What is Gingivitis?
Gingivitis is a dental disorder that affects the gums and the mouth. It is considered to be an early, reversible form of gum disease. It is caused by plaque buildup on teeth, which can lead to inflammation of the gums and bleeding in severe cases.
Gingivitis is a problem that people often think they can ignore. However, it is not something you should be taking lightly because if left untreated, the condition will only get worse and manifest into other health problems like heart disease or an inability to control diabetes down the road.
Gingival inflammation can also cause bad breath and can lead to "periodontitis". This disease manifests itself in the form of swollen gums, which can lead to tooth loss.
Signs and Symptoms of Gingivitis
Here are some other signs that you may have Gingivitis:
Swollen or puffy gums.
Dark red gums.
Gums that bleed easily when you brush or floss.
Tender gums.
How we treat Gingivitis
We treat Gingivitis by first removing plaque. Then, we clean and polish your teeth to remove any tartar that has accumulated over time. Lastly, the dentist needs to treat the gum tissue with a combination of chemicals or antibiotics depending on the severity of the case. Gingivitis can be reversed if treated early enough and before it becomes too severe.
If you think that you may have Gingivitis, it is important that you call our office today so we can schedule an appointment to see you!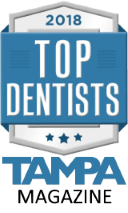 Don't Wait Any Longer.
Schedule Your Appointment Today!
Ferrera Dental Care & Sedation Dentistry
15047 Bruce B Downs Blvd, New Tampa, FL 33647
Office Hours
Monday - Thursday: 7:00 am - 5:00 pm
Friday, Saturday, Sunday: Closed
Dentist in New Tampa, Florida