All-On-4 Dental Implants
Enjoy your favorite foods, and smile with confidence!
Enjoy your favorite foods, and smile with confidence!
Thanks to the advanced technology in dentistry, missing teeth can be replaced in one office visit with All-On-4 Dental Implants.
All-On-4 Dental Implants in Tampa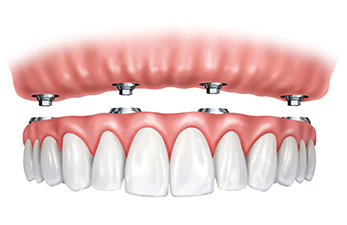 Your teeth are very important, they begin the digestion process and influence self esteem; therefore, you don't want to delay replacing any missing or damaged teeth. Thanks to the advanced technology in dentistry, missing teeth can be replaced in one office visit with All-On-4 Dental Implants.
Before we go further in explaining All-On-4 in detail – let me explain traditional dental implants.
Basically, a small screw (usually made of Titanium) is inserted in the jaw in the space where a tooth used to be. Once the implant is in place, a fake tooth is attached to the screw. One dental implant is stronger than one natural tooth. This concept multiplied by only four allows dentist to replace either all of the upper or lower teeth, this is All-On-4 Dental Implants.
If dental implants are new for you, then you may be experiencing a normal reaction of concern – due to the lack of knowledge of the process.
The following is a step-by-step explanation of the All-On-4 Dental Implant process.
First, you will be made comfortable with local or general anesthesia, then your mouth will be prepared. The preparation process may include the removal of failing, infected, or diseased teeth and/or excess gum tissue. Then the implant process will begin. Two implants will be placed toward the back of your mouth and two will be placed toward the front of your mouth. These 4 "anchors" will evenly distribute the weight of a full set of dentures. The denture will be palate less and stabilize the implants during the healing process. Once the implants are in place, the surgical sites are thoroughly cleaned and incisions are sutured. The process is now complete.
What to expect the first few days after implant placement including some post-surgery issues and solutions:
Liquids and soft foods are recommended for the first 48 to 72 hours post-surgery. Extremely hot foods/liquids should be avoided. Smoking, bending over, lifting heavy objects, and strenuous activity, should also be avoided.
Discomfort is usually unavoidable when it comes to recovery from any type of implant placement. Take any pain relieving medical prescribed, as directed, to ease discomfort.
Dry lips are due to the packing gauze keeping your mouth stretched. Using a hydrating type of lip ointment (such as Chapstick) should alleviate this issue.
Stiff jaw muscles are very common after dental implant placement. To reduce this discomfort, slowly and gently stretch the jaw muscles a few times a day.
A few days after placement, bruising and/or discoloration may be noticed near the surgical site. This is normal and should not be cause for alarm.
Why would you consider All-On-4 Dental Implants?
When you choose traditional dentures, you can expect recovery and time to adjust to your new teeth to take 3 to 12 months from the day of procedure. The only reason for the bone in your mouth is to hold your teeth. When the teeth are removed, the remaining bone will shrink for the rest of your life. However, when you choose All-On-4 dentures, recovery time is significantly less. Bone is preserved. This is due mainly to the fact that these implants fuse to your bone and promote denture stability from day one.
One of the greatest advantages to this new type of dental implant procedure is that more often than not only 4 implants are used instead of having each missing tooth implanted.
Other benefits include:
Immediate functionality
Less recovery time
Less discomfort
No bone grafts
Procedure is completed in one office visit
Enjoy your favorite foods
Smile with confidence
In general, patients that have chosen All-On-4 dental implants are extremely happy with the results, and you can be also.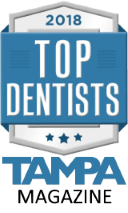 Don't Wait Any Longer.
Schedule Your Appointment Today!
15047 Bruce B Downs Blvd, Tampa, FL 33647
Dentist in New Tampa, Florida